CES2021: Thermaltake Introduces ARGENT Gaming Peripherals with Immersive Gaming Ecosystem

ARGENT K5 RGB Mechanical Gaming Keyboard equipped with Cherry MX Mechanical Switches. M5 RGB Gaming Mouse comes with ARM-based microcontroller
Walnut, California -January 12th, 2021
-
Thermaltake
, the leading PC component brand offering premium solutions for cooling, gaming peripherals, and enthusiast memory, today announced the ARGENT series, which includes ARGENT K5 RGB Mechanical Gaming Keyboard, ARGENT M5 RGB Gaming Mice, ARGENT H5 RGB 7.1 Headset, ARGENT HS1 RGB Headset Stand, ARGENT Gaming Desk, ARGENT Gaming Chair, ARGENT MP1 RGB Mouse Pad, and ARGENT MB1 Mouse Bungee.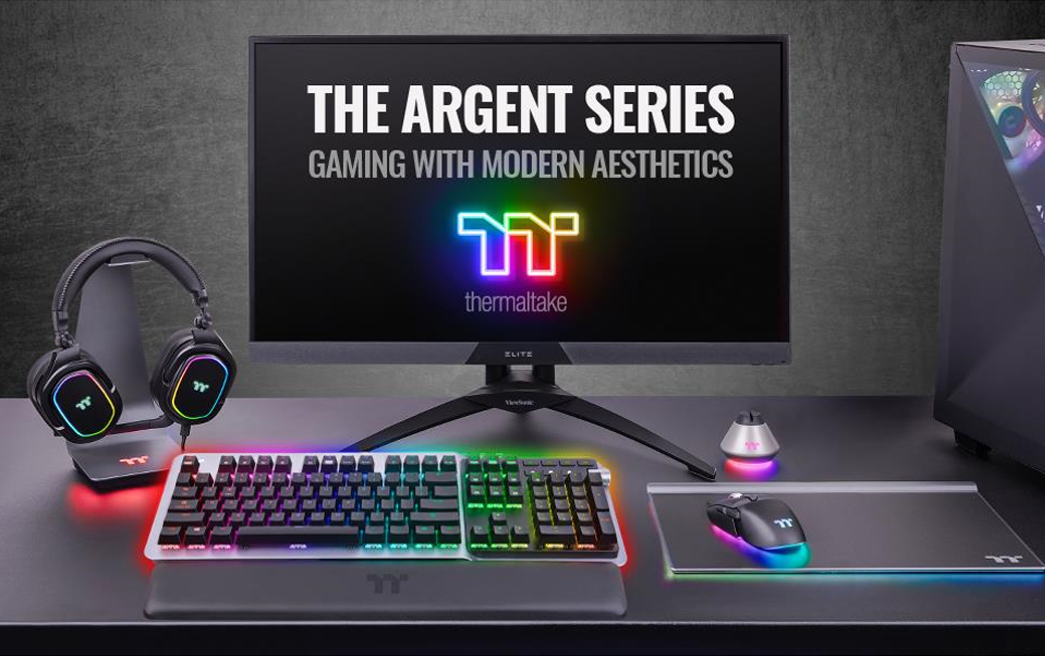 "We have decided to create a gaming series that can be enjoyed at all levels, including visual, auditory, and tactility while providing users to game and compete at the highest levels. The ARGENT series is a concept about creating an ecosystem, the hardware, software, and even the illumination can evolve to a state-of-the-art level. A truly immersive gaming and art enjoyment!" said Kenny Lin, the CEO of Thermaltake.
ARGENT K5 RGB Mechanical Keyboard
The ARGENT K5 RGB Mechanical Gaming Keyboard utilizes a silver aluminum faceplate with an understated aesthetic incorporating a floating keycap design, offering excellent dust extraction and water-resistance. With 16.8 million RGB color illumination and 13 dynamic lighting patterns, users can create stunning RGB illumination for any occasion. Customizing the ARGENT K5 can be done through the TT iTAKE software, including macros, game profiles, and RGB lighting effects. The ARGENT K5 is fully compatible with TT RGB PLUS products for RGB illumination, syncing with other TT RGB products.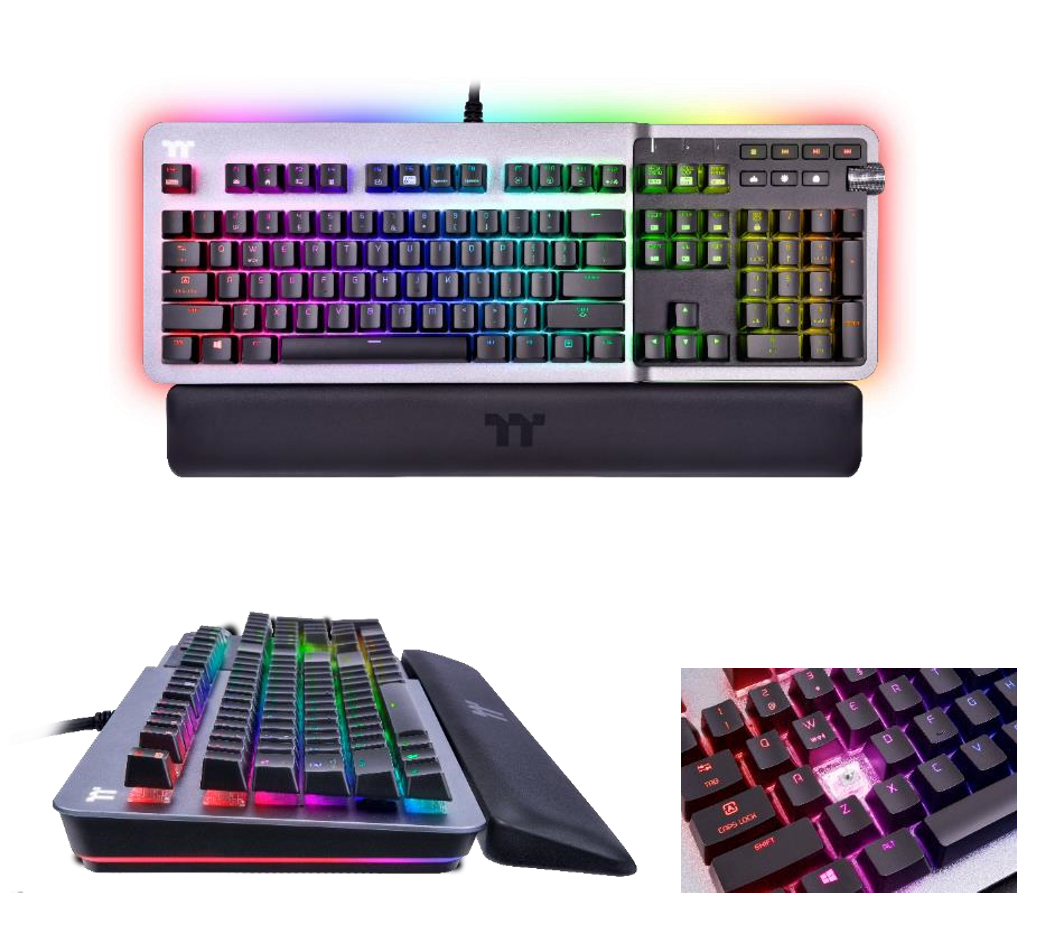 The Thermaltake engineering team has incorporated Cherry MX Speed Silver and MX Blue series switches with the ARGENT K5, which aims to provide the most durable, precise, and responsive tactile feedback to the user. In addition, the ARGENT K5 comes with eight additional keycaps (Q, W, E, R, A, S, D, F) and an exclusive keycap puller allowing users to customize their keyboard to fit their gaming style. Dedicated multimedia keys offer one touch access to common multimedia functions. It also features a car-audio style rotary volume control knob made of aluminum and allows for audio output volume adjustments, or presses the knob to mute/unmute the audio output. The detachable leather wrist pad, wrapped up in synthetic leather, gives gamers extra ergonomic protection under day-long gameplay.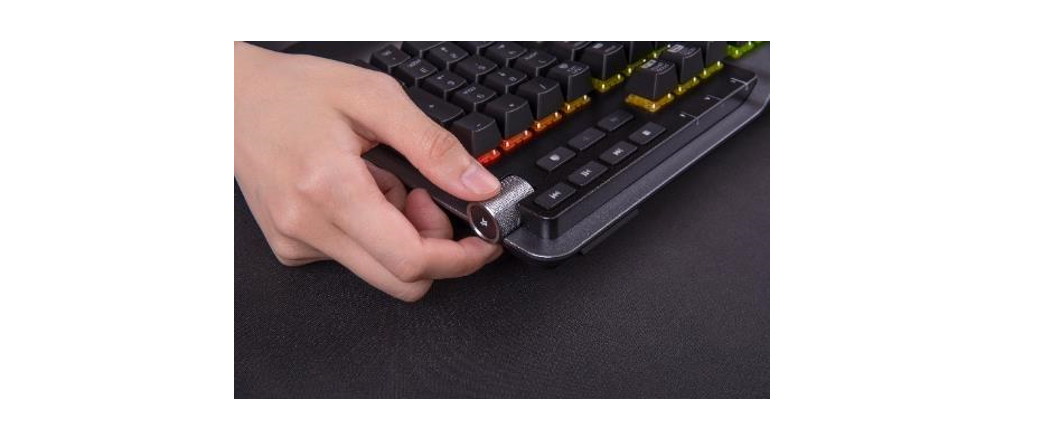 ARGENT M5 RGB Gaming Mouse
ARGENT M5 RGB Gaming Mouse will be available in wired and wireless options. To ensure a stable and uninterrupted wireless signal within a 10-meter wireless range, the ARGENT M5 RGB Wireless Gaming Mouse utilizes the 2.4GHz wireless and Bluetooth 5.0 connection and supports USB mode, which gives a faster mouse polling rate under 1ms and long-lasting for the battery. The mouse is designed for both right or left-handed users and allows switching of button functions as required. In order to deliver excellent accuracy, the M5 wireless supports on-the-fly sensitivity adjustment with six selectable default options from 100 to 16000 DPI, with adjustments allowed even during gameplay.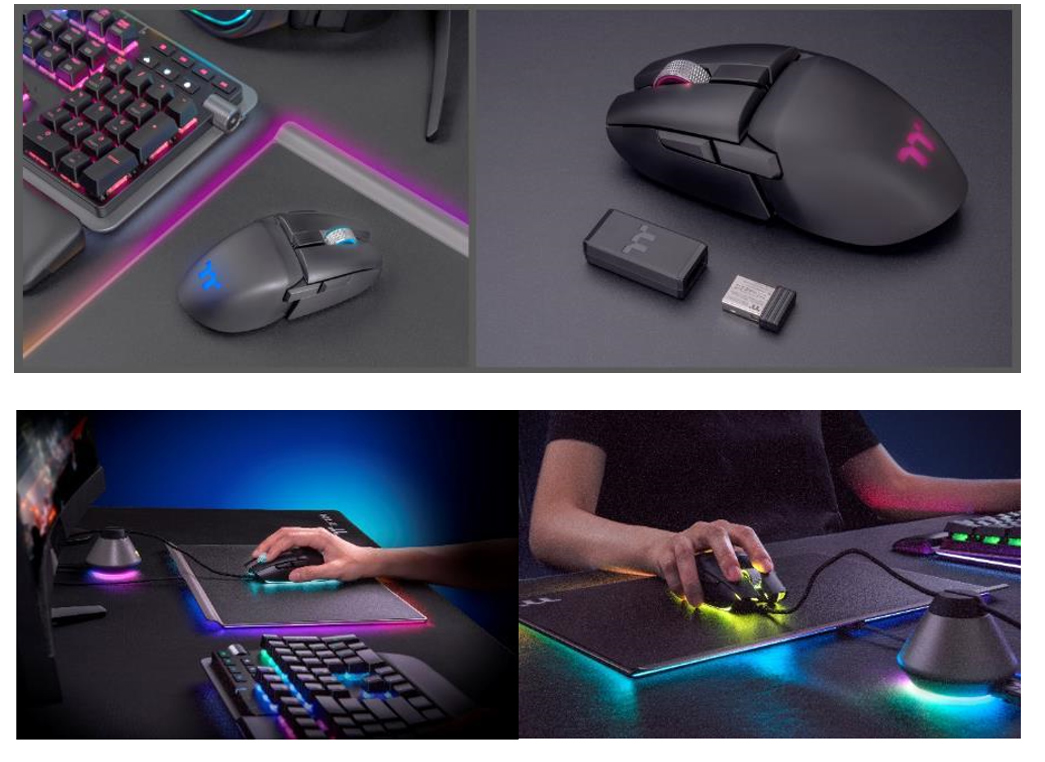 ARGENT M5 RGB Wireless Gaming Mouse is built with world-class OMRON switches for supreme reliability and rated up to a lifecycle of 50 million clicks. ARM-based 32-bit microcontroller and a 64Kb flash memory provide excellent agility and super-fast response time to meet hardcore gamers' needs. The mouse offers 16.8 million RGB color illumination across two separated lighting zones and allows users to customize the dynamic lighting effects using the TT iTake software engine. ARGENT M5's RGB lighting can be fully synchronized with TT RGB PLUS and compatible products, including the Razer Chroma ecosystem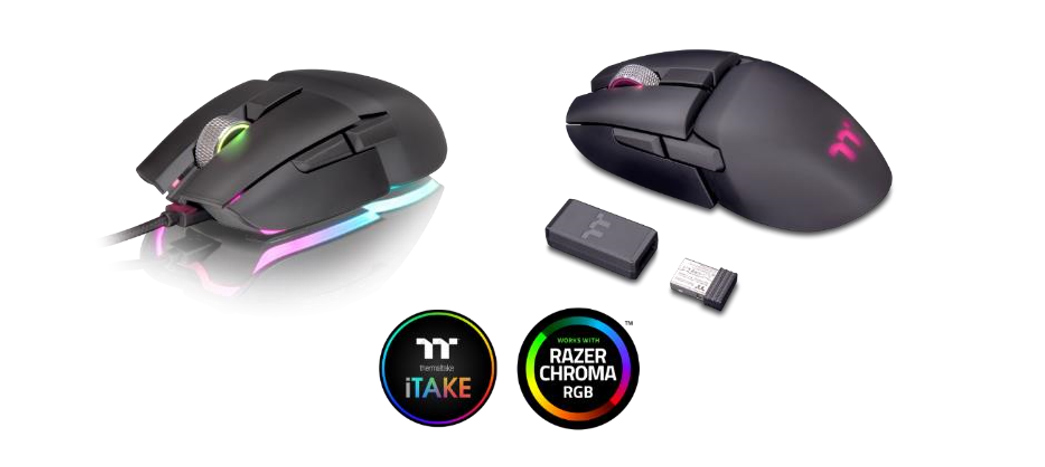 The ARGENT K5 RGB Mechanical Gaming Keyboard, ARGENT M5 RGB gaming mice, ARGENT MP1 RGB mouse pad, ARGENT MB1 RGB mouse bungee, and ARGENT HS1 RGB headset stand will be available in the USA and Canada in Q1 2021. More ARGENT Gaming Peripherals such as the headset, headset stand, RGB mouse pad, gaming chair, and gaming desk will be available later in 2021.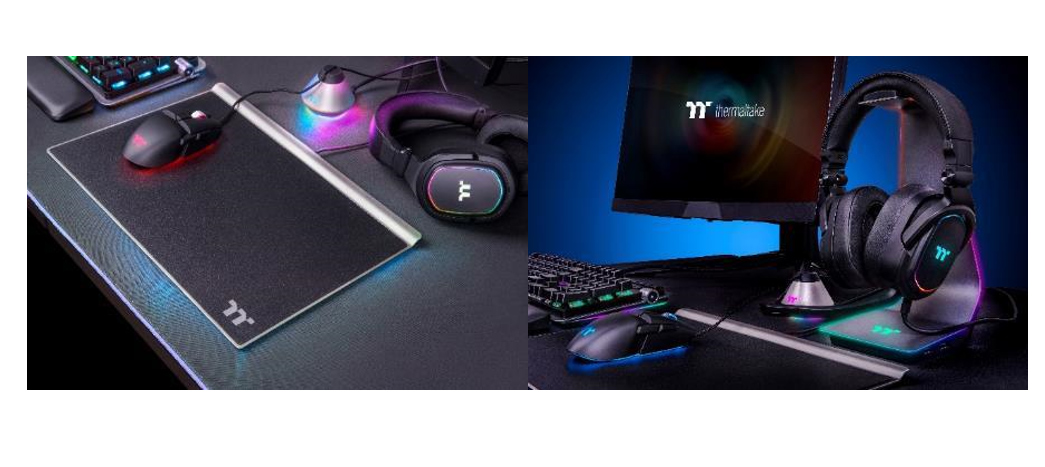 Product images can be downloaded,
here
.
MSRP:
ARGENT K5 RGB Mechanical Keyboard:
- Blue Switch $179.99
- Silver Switch $189.99
ARGENT M5 RGB Mouse $59.99
ARGENT M5 RGB Wireless Mouse $89.99
ARGENT H5 RGB 7.1 Headset $109.99
ARGENT HS1 RGB Headset Stand $89.99
ARGENT MP1 RGB Mouse Pad $69.99
ARGENT MB1 Mouse Bungee $29.99
CES 2021 and Thermaltake Expo
While CES 2021 moves to an all-digital experience, Thermaltake will launch their new products by hosting Thermaltake Expo on 1/11/2021 at 10 am Pacific Time on the YouTube channel. TOUGHAIR CPU Air Cooler, new PC cases, power supplies, liquid cooling solutions, and gaming peripherals will be revealed with live demonstrations. Watch Thermaltake Expo at the link below:
https://www.youtube.com/user/Thermaltakereview
Enter Thermaltake Expo Giveaway at
http://bit.ly/3rUbeYT