Thermaltake DistroCaseTM 350P Mid-Tower Chassis Available Now
Stunning Visuals with Spectacular Water Cooling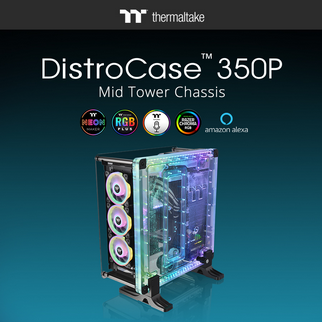 Taipei, Taiwan-September 14th, 2020-Thermaltake, the leading PC DIY premium brand for Cooling, Gaming Gear, and Enthusiast Memory solutions, is excited to announce that the DistroCaseTM 350P Mid-Tower Chassis has hit the shelves, and is now available on the TT Premium Online Shop and DE Alternate. The DistroCaseTM 350P Mid-Tower Chassis is an advanced, innovative, and multi-functional chassis with a truly eye-catching design that will grab a lot of attention. This fully modular chassis is designed with SPCC & PMMA made distro plate as the main body, which is a perfect fit for users who adore its beauty and enjoy the fun of water cooling. Users can also use the exclusive Thermaltake NeonMaker Light Editing Software to orchestrate a surreal underwater-like light show. This multi-functional PC enclosure is also incorporated with its water channels, reservoir, and multiple inlets and outlets, providing users, gamers, and enthusiasts an easier way to design their water loops.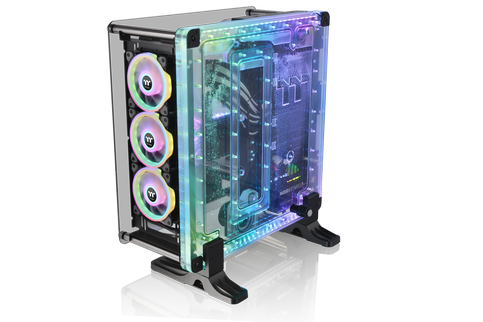 TT Premium
To continue achieving the corporate mission of delivering the perfect user experience, Thermaltake developed "TT Premium" with the essence of combining supreme quality products with a new logo design. TT Premium is far more than just a guarantee of quality. Behind the name, it represents the passion in DIY, Modding, and Thermaltake's desire to be the most innovative brand in the PC hardware market. To satisfy the demand of the high-end PC users, TT Premium follows its core values of Excellent Quality, Unique Design, Diverse Combinations, and Boundless Creativity to provide a high-performance PC product for every enthusiast.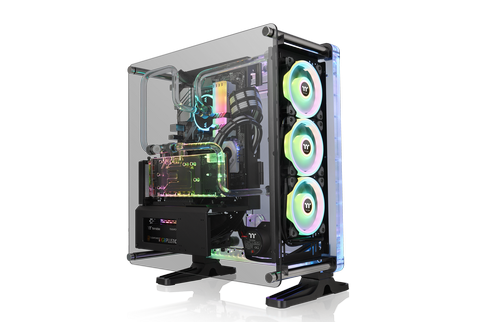 Exclusively "Tt LCS Certified" for DistroCaseTM 350P
Tt LCS Certified is a Thermaltake exclusive certification applied to products that pass the design and rigorous hardcore enthusiast standards that only the world's best LCS chassis are held to. The Tt LCS certification was created so that we at Thermaltake can clearly convey to power users and enthusiasts which chassis are built and tested to be best compatible under extreme liquid cooling configurations. This ensures you get the best performance, compatibility, and features.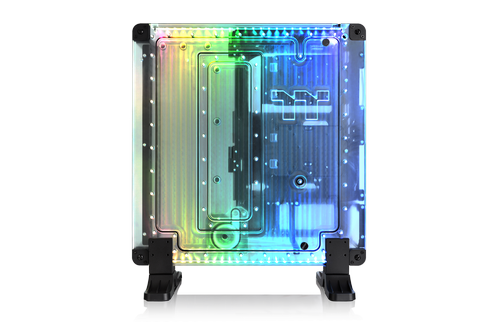 Features of the Thermaltake DistroCaseTM 350P Mid-Tower Chassis:
Smart and Multi-functional Unit
The DistroCaseTM 350P is a chassis that combines a pump, a distribution plate, tempered glass, and a few screws, all constructed into one easy to build chassis. The body of the case is made with SPCC & PMMA and comes with a preinstalled D5 pump, allowing hot and cold coolant to run smoothly through the entire case and at the same time minimizing complicated water loops whilst keeping your liquid-cooled components cool.
 
The chassis is designed with G ¼ inlets and outlets to fit the most popular fittings; furthermore, the 48 LEDs on the DistroCaseTM 350P are motherboard RGB and TT RGB PLUS Ecosystem software compatible, giving you plenty of options to control the light colors and modes of the DistroCaseTM 350P.
 
Tempered Glass Panel
The DistroCaseTM 350P is a true open frame case with advanced viewing capability, granting direct view of the front and back. The tempered glass panel features a thickness of 5mm which is the highest standard in the industry. Moreover, unlike any other cases on the market, the enlarged glass windows permit users to fully display every component in the system, and show off their dedication and skillsets
 
Handy I/O Ports
The Chassis comes with two USB 3.0, two USB 2.0 to grand direct access when needed.  
 
TT RGB PLUS Ecosystem
Light up your system with almost limitless possibilities and synchronize your TT RGB PLUS compatible products (CPU/VGA water blocks, AIO CPU coolers, PSUs, LED strips, gaming keyboards, headsets, mice, and mousepads) to create an RGB ecosystem that is truly unique to you.
 
Sync with Motherboard RGB Software
The DistroCaseTM 350P has been meticulously designed to synchronize with ASUS Aura Sync, GIGABYTE RGB Fusion, MSI Mystic Light Sync, and ASRock Polychrome. It supports motherboards that have a 5V addressable RGB header, allowing you to control the lighting directly from the software mentioned above without needing to install any extra lighting software or controllers.
 
Thermaltake NeonMaker Lighting Software
NeonMaker is a new advanced editing software for RGB lighting customization. NeonMaker provides various stunning pre-set lighting effects but also allows users to edit their lighting effects on every single LED, granting access to further customizable lighting options.
 
SyncALL, Say "Hello TT" – Thermaltake AI Voice Control
Talking to the TT RGB PLUS App is a more relaxed and faster way to set up lightings for your systems. You can ask the AI to turn the lights on or off, switch lights modes, dim the lights, change light colors, or adjust lights speeds or fan speeds.
 
Works with Amazon Alexa
All Thermaltake TT RGB PLUS products support Amazon Alexa Voice Service, allowing you to control the lights or fan speeds by talking to the Alexa-enabled device. With the support of Amazon Alexa, TT RGB PLUS products also offer an additional visual cue for checking current weather conditions in your location or anywhere in the world. All you have to do is simply starting the sentence with "Alexa, tell Thermaltake," then the lighting color will correspond to the weather condition in the location.
 
Sync with Razer Chroma Lighting
All Thermaltake TT RGB PLUS products can connect into the Razer Chroma ecosystem, Razer Synapse 3. Users can experience synchronized gaming and RGB lighting effects on their TT RGB PLUS liquid cooling system and Razer gaming gear!
 
Availability, Warranty, and Pricing
Thermaltake DistroCaseTM 350P Mid-Tower Chassis is now available for purchase via the Thermaltake worldwide network of authorized retailers and distributors. It is backed by a three-year warranty and supported by the Thermaltake worldwide customer service and technical support network. For up-to-date pricing of the chassis, please refer to the Thermaltake website or contact your local Thermaltake sales or PR representative.
 
For more product information, please visit:
https://www.thermaltake.com/distrocasetm-350p-mid-tower-chassis.html
 
Where to Buy:
Germany-Alternate- https://www.alternate.de/html/product/1659932
TT Premium Australia-https://ttpremium.com.au/?post_type=product&p=6686&preview=true
TT Premium Taiwan- https://ttpremium.com.tw/?post_type=product&p=10336&preview=true
TT Premium China- https://ttpremium.com.cn/?post_type=product&p=11245&preview=true
TT Premium Asia- https://asia.ttpremium.com/?post_type=product&p=16928&preview=true