Thermaltake New Riing Plus 12 LED RGB Radiator Fan
TT Premium Edition Radiator Fan with Riing Plus RGB Software
Cool Your System with Infinite Color Combinations


Taipei, Taiwan-February 24th, 2017-Thermaltake, the leading brand in the PC DIY and CaseMOD market, combines gorgeous LED light with cutting-edge technology to deliver a brand new experience for PC cooling. The Thermaltake Riing Plus 12 LED RGB Radiator Fan TT Premium Edition is a 120mm high-static pressure fan with a patented 16.8 million colors LED ring and 12 controllable single LEDs. The Riing Plus 12 RGB features compression blades, hydraulic bearing and a digital fan controller which can be controlled through the patented Riing Plus RGB Software. Functions within the software allow users to personalize colors for each LED, and also provide users with numerous lighting schemes, such as Ripple, Wave and RGB Spectrum. The lights can even sync with music by applying Sound Control. Other basic functions are also designed in the software, including Color Palette, LED Brightness, Fan Speeds, PWM Mode, and CPU temperature monitoring. Paint your system with the new Thermaltake Riing Plus 12 LED RGB Radiator Fan TT Premium Edition! The new Thermaltake Riing Plus 12 LED RGB Radiator Fan TT Premium Edition 120mm high-static pressure fan is available for pre-order on TT Premium.com, and will be on the market around the beginning of February.

Where to Buy:
l TT Premium
United States-
http://ttpremium.com/product/riing-plus-12-rgb-radiator-fan-tt-premium-edition-3-fan-pack/
Australia-
https://ttpremium.com.au/product/cl-f053-pl12sw-a/
Europe-
https://ttpremium.eu/product/cl-f053-pl12sw-a/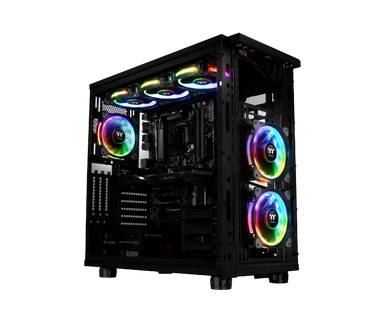 Thermaltake TT Premium sets new standard in PC DIY and PC Modding
To continue achieving the corporate mission of delivering the perfect user experience, Thermaltake developed "TT Premium" with the essence of combining supreme quality products with a new logo design. TT Premium is far more than just a guarantee of quality. Behind the name, it represents the passion in DIY, Modding and Thermaltake's desire to be the most innovative brand in the PC hardware market. To satisfy the demand of the high-end PC users, TT Premium follows its core values of Excellent Quality, Unique Design, Diverse Combinations and Boundless Creativity to provide a high performance PC product for every enthusiast.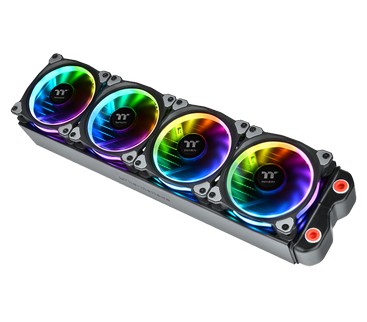 Features of the Thermaltake Riing Plus 12 LED RGB Radiator Fan TT Premium Edition: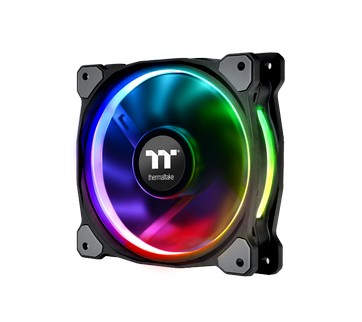 Thermaltake's Patented LED Design
Featuring 12 controllable single LEDs, great light coverage, and uniform color and brightness, the built-in LED ring can paint your build with 16.8 million colors.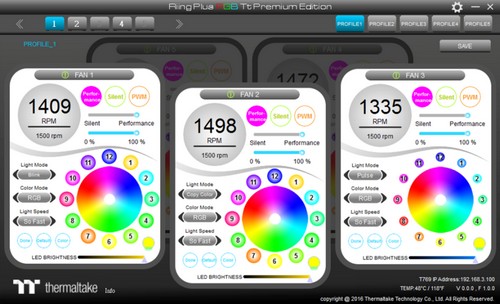 Thermaltake's Patented Riing Plus RGB Software
Monitor the fan performance, adjust the fan speeds, and customize the lighting effects for up to 80 fans with the patented Riing Plus RGB Software. The software includes a number of preset fan modes that enable users to set the fans to silent operation or performance operation. Besides running at the optimal RPM range, users can customize the speed by disabling PWM. Moreover, the software offers real-time fan warning alerts when performance operating issues have emerged. Users are also allowed to personalize the lighting by the recommended color palette or the present light modes (Copy Color, Full Lighted, Sound Control, Flow, RGB Spectrum, Ripple, Blink, Pulse and Wave). Users can switch between different lighting schemes along with three "Color modes" (RGB, Single and Off) and four "Light Speeds" (Slow, Normal, Fast and So Fast).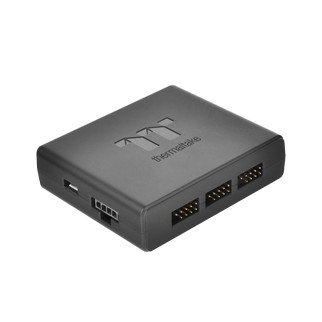 Digital Fan Controller
Each controller is designed with a DIP switch on the back. Hence, users can set a number for the controller easily. Users can add up to 5 fans to one fan controller and up to 16 controllers to the software. The controller and the coding guide are included in all packs.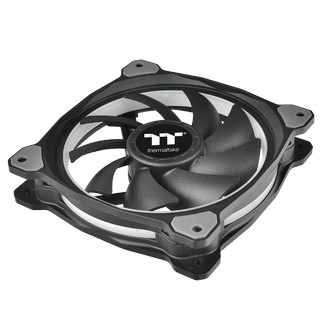 Nine Fan Blade Design
The Nine fan blades are engineered to generate higher airflow without compromising on ultra-silent operation. With this unique blade design, the Riing Plus 12 RGB guarantees great performance.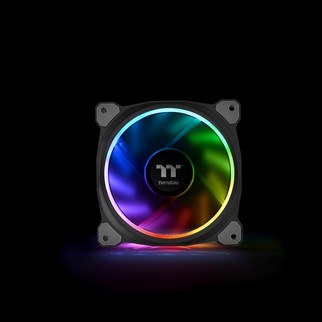 Hydraulic Bearing with Low-Noise Design
The hydraulic bearing self-lubricates with a high-quality, friction-reducing substance, which lowers operation noise while improving thermal efficiency. The seal cap prevents lubricant leakage and extends the lifespan of the unit.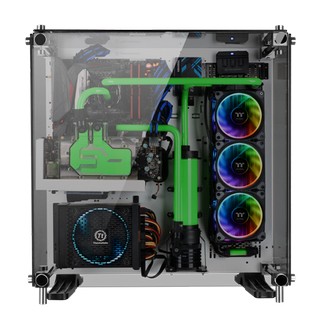 Anti-Vibration Mounting System
In-mold injection anti-vibration rubber pads provide a hassle-free usage with 80% protection coverage for all corners.

For more details on the Thermaltake Riing Plus 12 LED RGB Radiator Fan TT Premium Edition please visit:
http://www.thermaltake.com/products-model.aspx?id=C_00003016
Thermaltake Riing Plus 12 LED RGB Radiator Fan TT Premium Edition video: https://www.youtube.com/watch?v=__N2fyU7Fuo&feature=youtu.be